"Ronda Looked Weak": WWE Fans Go Wild as Ronda Rousey Gets Embarassed on WWE SmackDown
COLUMBUS, OH – MARCH 03: Ronda Rousey is declared the winner and new bantamweight champion after her fight with Miesha Tate during the Strikeforce event at Nationwide Arena on March 3, 2012 in Columbus, Ohio. (Photo by Esther Lin/Forza LLC/Forza LLC via Getty Images)
The newly crowned SmackDown Women's Champion, Ronda Rousey, wanted to celebrate her WrestleMania Backlash victory in style. However, Ronda Rousey's celebration was cut short by SmackDown's newest star, Raquel Rodriguez.
During this week's edition of SmackDown, the 'Baddest Woman on the Planet' talked about her ecstatic title win at WrestleMania Backlash against Charlotte Flair. She then issued an open challenge for her championship.
While Ronda Rousey was confident laying out the challenge, it wasn't the same when her opponent squared off in the ring with her.
WWE fans went berserk as Raquel Rodriguez humbled Ronda Rousey!
No one expected Raquel Rodriguez to pop up and answer Ronda Rousey's open challenge, but she did! In fact, Raquel Rodriguez gave Ronda Rousey a run for her money as she overpowered her during their match.
Raquel Rodriguez manhandled Rousey, throwing her across the ring like a rag doll. The WWE Universe reacted insanely to watch Rodriguez dominate the newly Champion. Fans were quick to notice Rousey was frail in front of 'Big Mami Cool'
Raquel Rodriguez is looking very impressive.

— 𝖱𝖮𝖢𝖪 𝖡𝖴𝖫𝖫 𝖶𝖨𝖫𝖫 (@ROCKWILLBULL) May 14, 2022
Fans knew WWE wouldn't take the title off Rousey so soon. However, the WWE Universe was impressed by Rodriguez's powerful offense on Rousey. The former NXT Women's Champion was at ease when she controlled Ronda Rousey throughout the match.
As expected, WWE did not give Raquel Rodriguez the victory. However, her presentation clearly showed the world that a new star is born and is here to stay.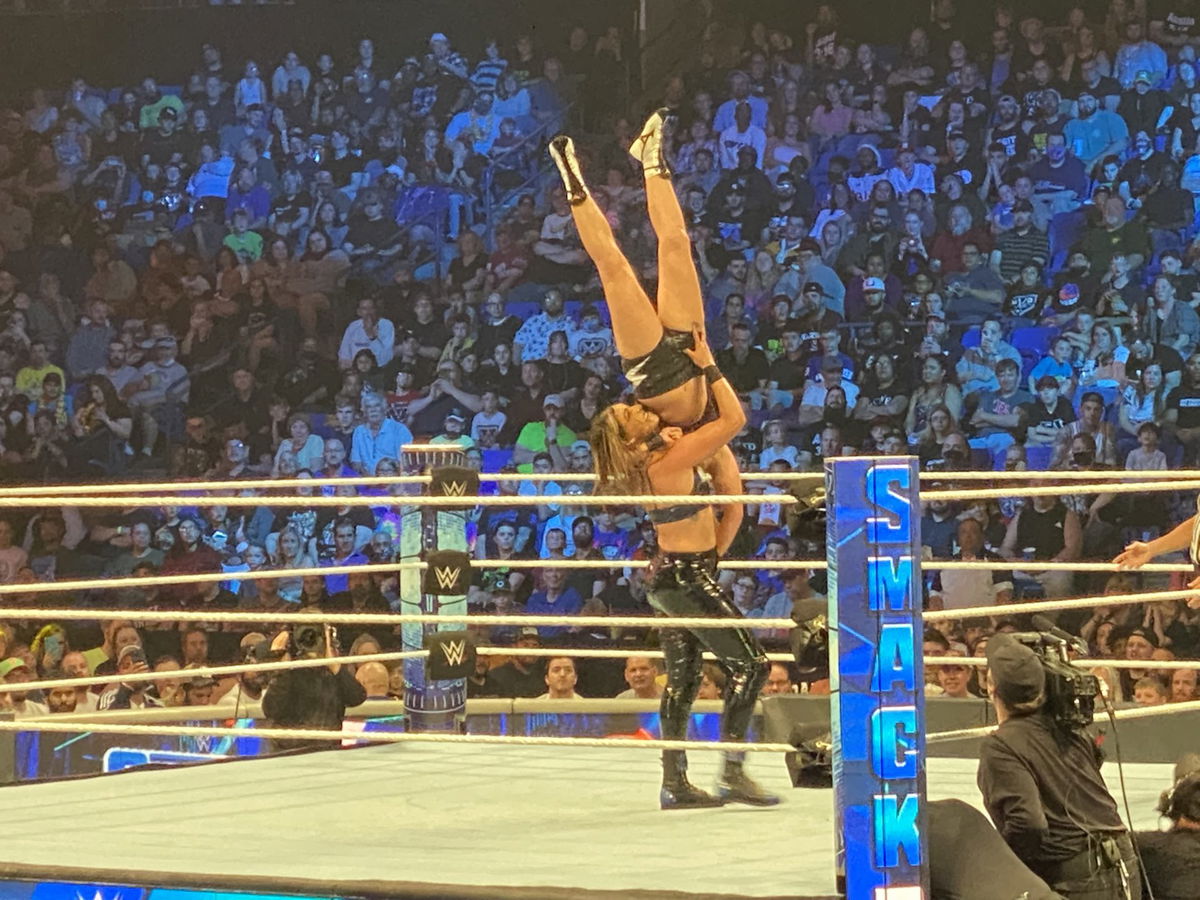 Ronda Rousey capped off the victory over Rodriguez with a roll-up to retain her SmackDown Women's title. But it wasn't the end, the 'Baddest Woman on the Planet' went up to the 31-year-old star and congratulated her for an impressive performance.When Ronda Rousey acknowledges somebody, it's a no brainer that person is a legit big deal.
="twitter-tweet twitter-tweet-rendered"></
Ronda Rousey and Raquel Rodriguez may have shared a bonding moment after the match, but we all know, there's no friendship or respect when a title is on the line.
This match indeed elevated the status of Raquel Rodriguez in the WWE, and the company might soon allow her to climb the mountain.