WWE Legend Kurt Angle Offers Peculiar Explanation for WWE Spamming Roman Reigns vs Brock Lesnar Feud
Roman Reigns and Brock Lesnar will once again clash against each other at WWE SummerSlam 2022. Just moments after Lesnar's return to WWE last month, WWE scheduled a Last Man Standing match between Reigns vs Lesnar.
Ever since this match got official, many people have expressed their opinions on this booking, including Lesnar's former WWE rival Kurt Angle. Kurt Angle feuded with Brock Lesnar during the early years of Lesnar's WWE career. Angle also had a brilliant match against Lesnar at WWE WrestleMania 19.
Reflecting on Brock Lesnar's upcoming match against Roman Reigns in an interview with NBC Sports Boston, Angle credited AEW for Lesnar's SummerSlam match against Roman Reigns.
Kurt Angle said, "I think that has a lot to do with the other promotion starting to get some momentum behind them — AEW. WWE lost a lot of talent to them. So, they're looking at their NXT guys. They are gonna start making those guys pretty soon. I think that they do have a habit of going back to the older guys like Brock Lesnar."
Lesnar always got the fans excited about his WWE returns in the past. Though the fans were happy to see Lesnar back in WWE, some individuals did not look too pleased with seeing another Roman Reigns vs Brock Lesnar feud. But it looks like this rivalry will finally end at WWE SummerSlam 2022 when Lesnar takes on Reigns in a 'Last Man Standing' match.
Brock Lesnar took down The Bloodline after his WWE return
The Usos' presence outside the ring has played a key role in some Roman Reigns' matches in the past. But if there is anyone who can take down Roman Reigns and The Usos together at the same time, it is Brock Lesnar. And the Beast Incarnate did exactly that on his return to WWE television last month.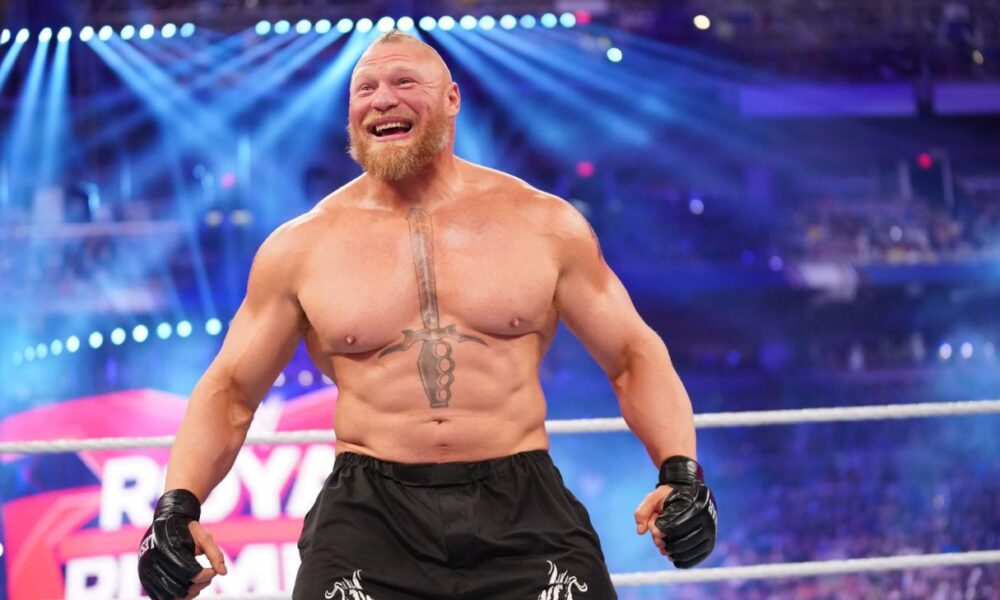 Lesnar made his way towards the ring following Reigns' recent title defense against Riddle. After entering the ring, he offered a handshake to the Tribal Chief. But as soon as Reigns gave his hand, Brock Lesnar lifted Reigns on his shoulder and hit him with an F5.
The Usos then tried to attack Lesnar. But instead of taking down Lesnar, they found themselves in trouble as Lesnar ran havoc on them. The Beast Incarnate only had revenge in his mind for his loss at WrestleMania 38. And who knows, he might be the one to take the titles away from Roman Reigns at WWE SummerSlam 2022.