"I Don't Pay You to..": Vince McMahon Screamed at Brock Lesnar and the 'Beast' Couldn't Do a Thing
Brock Lesnar is someone who fears none. Almost every time he stepped inside the squared circle, he caused destruction. He even destroyed properties such as cars. But if someone can get away by shouting at Lesnar, it is none other than Vince McMahon.
And Mr. McMahon did just that after he saw Lesnar and Kurt Angle competing in a shoot-wrestling match in a WWE ring. Doug Basham (former WWE star) recalled this incident involving Mr. McMahon, Kurt Angle, and Lesnar in an episode of the Cafe de Rene podcast.
Doug Basham said, "They [Brock Lesnar and Kurt Angle] started to take each other down. And very slowly, one by one, everyone just started dipping out of the ring. Everybody was just sitting there watching. They were starting to get really go after it."
"And then all of a sudden you hear Vince McMahon's voice, 'What the f**k are you doing? I don't pay you to go out there and get hurt,'" he further added.
Lesnar and Angle had some brilliant matches during Lesnar's early years in WWE. And WWE fans are forever going to remember their WrestleMania 19 match.
How is Vince McMahon's relationship with Brock Lesnar?
Brock Lesnar opened up about his relationship with Mr. McMahon in an interview on The Pat McAfee Show. Lesnar claimed he met Mr. McMahon in his younger days and the Beast Incarnate sees him more as a father figure.
Brock Lesnar also claimed he learned a lot from Vince McMahon and those learnings have helped him in handling business with UFC president, Dana White. It is not a secret to many that Lesnar is an individual who enjoyed success in the UFC after his failed NFL attempt and his first exit from WWE.
<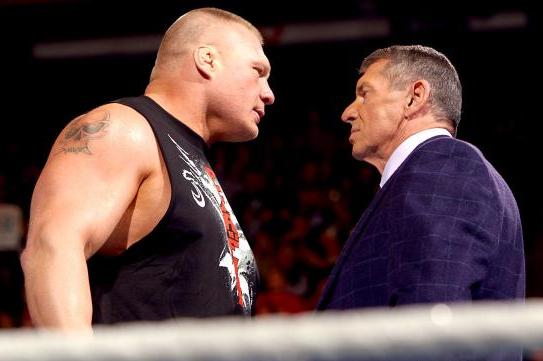 The Beast Incarnate clearly has a lot of respect for Mr. McMahon. But it is not just Lesnar praising McMahon on The Pat McAfee Show. During the interview, Vince McMahon also praised Brock Lesnar by mentioning him as "An extraordinary human being."
Thus, you can say Mr. McMahon really values Brock Lesnar. And who knows, he might be the person to induct Lesnar into the WWE Hall of Fame in the future.