"Not Fun to Handle": The Undertaker Reveals Time He Saved Drunk WWE Legend from Vince McMahon
The Undertaker is the biggest WWE superstar in the world who closely saw the company for 30 years while making an illustrious career. He maintained his kayfabe for a long time in public. However, he made some lifelong friendships in the WWE locker room where he was able to be himself, today famously known as BSK.
Back in the 90s in WWE, Yokozuna along with The Undertaker, The Godfather, Rikishi, Henry O'Goodwin, Mr.Fuji, etc founded Bone Street Krew (BSK). The members were wrestlers who shared similar interests and played dominos.
Recently, four members of the BSK The Undertaker, The Godfather, Rikishi, and Henry O'Goodwin reunited on the latest episode of WWE's Table for 3. They recalled their memories of the 90s while having their meal. However, The Deadman kicked off the episode with a funny memory of saving drunk WWE Legend Henry O'Goodwin from Vince McMahon.
Taker said, "We are at the Ramada hotel. It's nice after TV, you know when everybody got together. So I think you (O'Goodwin)  were first, I see him right, he's (imitates drunken O'Goodwin). So he gets a head start on everybody and I' am like, 'Mark what room you in?' He tells me what room he's in but it's another hotel across the street. (Everyone laughs)".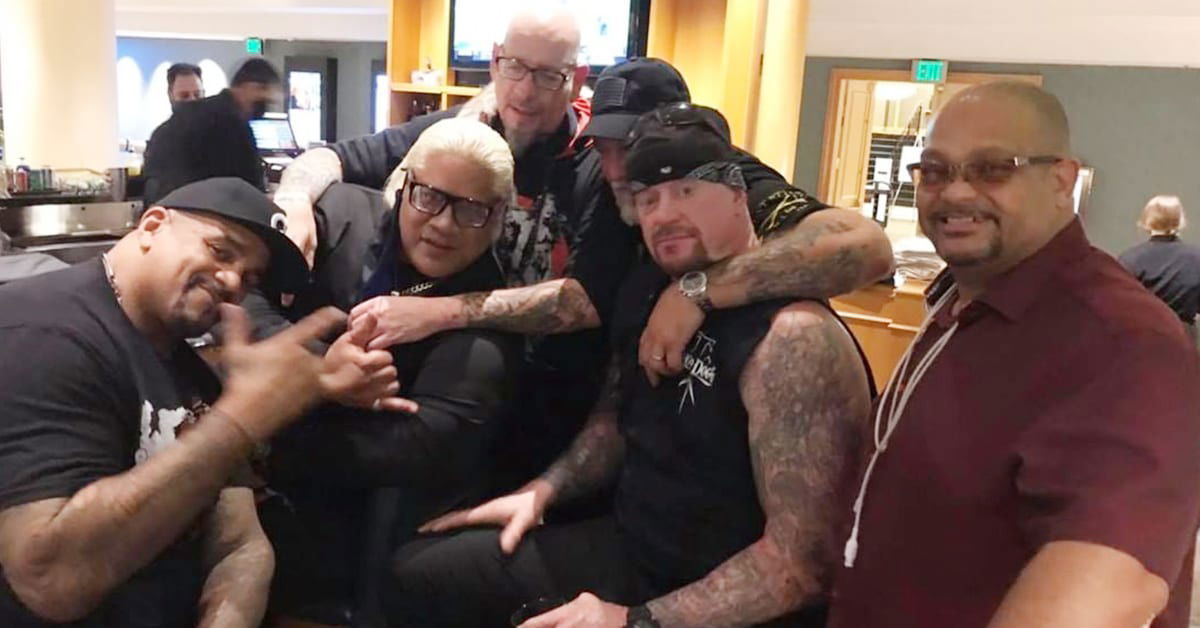 He added, "So I get him, everybody's having a good time. I'm like I gotta get him out of here before Vince sees him. So I get him out, take him, get him in the car. 325 pounds of pure drunk man is not fun to handle. (Probably) Trying to kiss me, because that's the only way I could hold him. He was bear-hugging in there and saying, 'I love Mark ok. I love you'."
The Phenom further also said he got O'Goodwin to his hotel and tucked him into his bed. Taker recalled being sweaty after carrying to 300+ pound man to his hotel. Later, Taker recalled after returning to his hotel, it was another superstar who got drunk and was Henry O' Goodwin's roommate at the hotel.
The Undertaker set to have his own show
The Undertaker is arguably the best WWE superstar to have stepped foot in the squared circle. However, next month, The Deadman is going to step foot into a new career. Taker will have his own show named 'The UNDERTAKER 1 deadMAN SHOW'. It will debut on Friday night, July 29, at Wildhorse Saloon in Nashville, Tennessee.
Taker shared on his Twitter, "Stories from a 30+ year career, life on the road, and performing in front of the best fans in the world. Tickets on sale Tuesday! ⚱️#SummerSlam @Ticketmaster @WWE".
In the show, UNDERTAKER 1 deadMAN SHOW will feature The Phenom in an intimate setting, sharing never-heard-before stories from his Hall of Fame-awarded career and taking questions from the WWE Universe in attendance.
Are you excited about Taker's new show? What questions will you ask if you have a chance? Let us know about the same in the comments.