"I Feel Bad for My Siblings": Brock Lesnar Revealed the Biggest Regret of His Insane Physical Capabilities
Brock Lesnar is one of the strongest individuals to step inside the squared circle. For so many years, Lesnar had demonstrated his strength to the audience during his matches and segments on WWE television. His superb physique makes opponents think twice before getting into a fight against him. But he also had a regret for his insane physical capabilities.
In his book titled "Death Clutch", Brock Lesnar mentioned his parents never taught him to settle for second best. He revealed his mother always pushed him hard to win. The Beast Incarnate further claimed he felt bad for his siblings, as he was the center of attention most of the time.
Lesnar noted even though his brothers and sister were standout athletes in their respective fields, they still had to live in his shadow. In his book, the Beast Incarnate mentioned, "My two older brothers, Troy and Chad, were standout athletes in their own right, but chose not to pursue sports as a career. Over time, they became known as Brock's brothers."
Brock Lesnar further added, "My poor little sister, Brandy, was a very good athlete too, and she excelled at basketball, volleyball, track, and any other sport she decided to play. But no matter how well she did, she still had to live in the shadow of her big brother Brock."
The WWE legend admitted that being the centre of attention had its perks, but he also had the pressure on him to succeed. However, he accepted all challenges. And today, he is one of the most successful pro wrestlers of all time in WWE.
Brock Lesnar became the youngest WWE Champion within one year of his main roster debut
After making his debut on WWE television, Brock Lesnar rose to the top quickly. He impressed everyone with his performances against some of the top stars in the company at that time. Fans see him as a special individual and he even got the nickname "The Next Big Thing" in the early years of his WWE career. At WWE SummerSlam 2002, Lesnar competed in a match against Dwayne "The Rock" Johnson.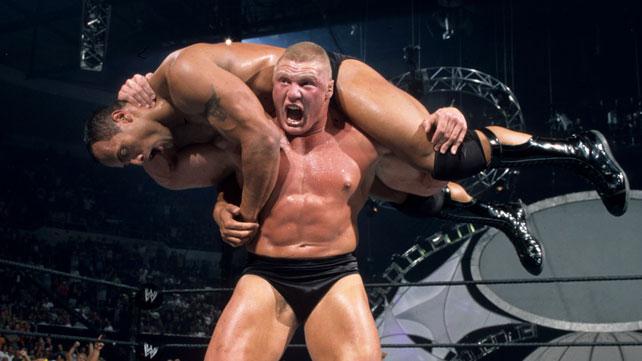 Brock Lesnar made a special achievement by defeating The Rock at WWE SummerSlam 2022. With that victory, he became the youngest WWE Champion in history. Till now, he has won the WWE Championship seven times and the WWE Universal Championship three times.
And who knows, if he had not left WWE for his football dream and not competed in UFC, he could have broken Cena and Flair's record of most world titles (16), as recognized by WWE. But the Beast Incarnate is still going strong inside the squared circle, and he will certainly have one eye on that record.