"It Was About My Journey": The Undertaker Responds to Backlash He Got for Snubbing His Greatest Rival
The Undertaker is one of the greatest wrestlers in WWE's massive history. In his huge career, The Undertaker has gone blow to blow with a lot of superstars, creating iconic moments. And in his recent Hall of Fame induction ceremony speech, he remembered most of them.
Mentioning his legendary WrestleMania bouts with Shawn Michaels and Triple H, The Deadman recalled the moments when his character became the entity it is today. But more than that, The Undertaker wanted the audience in attendance and at home to know that The Undertaker was dead. Instead, he would love to show them the real him, Mark Calaway.
The Undertaker apologizes for forgetting WWE Legends in his speech
Sitting with the bleacher report, The Undertaker opened up about backlash from his speech. He said, "I delivered the speech, and I got everything out there that I wanted to say, I got a little bit of blowback for not mentioning a couple of people, but it wasn't about… If I go through every angle, every opponent… I did get a little bit of, 'I can't believe you didn't mention Mick Foley.' I've talked about Mick Foley until I'm blue in the gills."
"I love Mick Foley, I think what we did will outlive the test of time as far as our angle. But then I can talk about Edge and so on. I haven't talked to any of those guys. I hope they didn't get their feelings hurt, but it wasn't about all that. It was about my journey and the things I've learned through those 30-plus years that I was trying to share and help people in their lives and thank the WWE Universe. That's what it was all about. If anyone was offended, I'm sorry."
The Undertaker's iconic rivals over the years
While The Phenom mentioned Triple H and Shawn Michaels in his speech, the WrestleMania 28 bout was one for the ages. It was a match that marked the end of the era for the three involved. While The Undertaker would deliver bangers with CM Punk and Brock Lesnar, over the years, he wasn't in his prime anymore.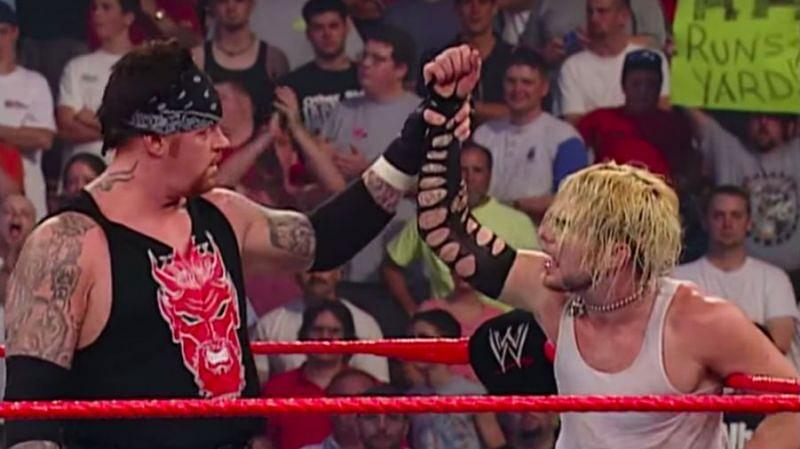 Back in the day, one of the most unforgettable matches from his American Badass phase was against Jeff Hardy. Battling for the WWE Championship in a Ladder Match, The Undertaker and Hardy went all out. On a random episode of WWE Raw, Hardy won his first world title, which made this moment more iconic.
Tell us about some of your favorite Undertaker matches in the comments below.