Dwayne Johnson Played a Major Role in Brock Lesnar Quitting WWE
Brock Lesnar is one of the most fearsome wrestlers in the business and has trained his whole life to achieve this feat. But there was a moment in Lesnar's career when he quit WWE and looked for other ventures. 'The Beast Incarnate'  went to NJPW, then to UFC, and became one of the greatest UFC World Champions.
But what was the reason he left WWE?
In his book, Death Clutch, Lesnar writes about the point which made him re-think his career in WWE. If he had to be the big guy in a company as big and influential as WWE, he had to be sure of everything around him. And on that fateful night, the Beast Incarnate would do just that.
Brock Lesnar talks about Dwayne Johnson's match and his decision to quit
Lesnar wrote, "I was so excited the day I heard that I had been booked against Dwayne "The Rock" Johnson in Miami for our second one-on-one match. It ended up being one of the most important days in my pro wrestling career because that match in Miami was a pivotal point in my decision to quit WWE."
"It was about an hour and a half before we were supposed to step into the ring for the main event of the evening, and Dwayne says to me, "… and that's when I'll hit you with the Rock Bottom, one… two… three!" I wasn't upset about losing. That wasn't the point at all. What bothered me was that I was the last guy to know, when I should have been the first. That night changed my attitude toward the WWE because it's when I started to feel Vince was a manipulating bastard, and that I was being played."
Brock Lesnar's explosive return to WWE
After leaving WWE, Lesnar found massive success in the UFC. Not only was he the greatest fighter the sport had witnessed, but he also became a household name. WWE had craved Brock Lesnar's return ever since his exit but now would prove most useful.
So, in the summer of 2012, Brock would return to a thunderous response to the crowd. His feuds with John Cena and Triple H would cement his star power in the company. But his match with The Undertaker at WrestleMania 30 would glorify him to Hall of Fame status.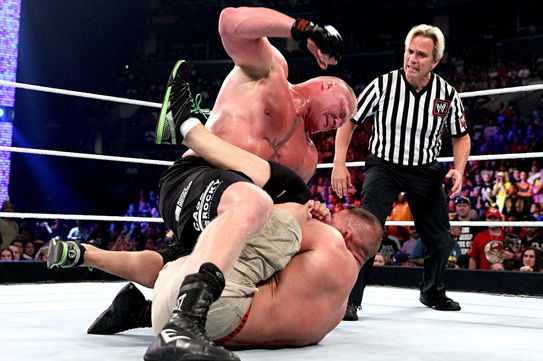 Tell us some of your favorite Brock Lesnar matches in the comments below.