Brock Lesnar on Being Outcast By WWE: "There Wasn't One Guy in the Company Who Could Even Hold My Jockstrap"
Brock Lesnar is often called The Beast Incarnate, but somewhere down there is also a man who is living a normal life. And in his biography, Death Clutch, Lesnar pours all of it out. Just like his persona in the wrestling world, the book takes a few jabs at everyone, even Vince McMahon. But one thing that the book accomplishes perfectly is conveying who Lesnar really is in real life.
The part about his struggles with the company and the tight schedule that the job demands are conveyed expertly. Especially the last few chapters about his time in WWE, help us understand Lesnar's reason for leaving WWE in 2004.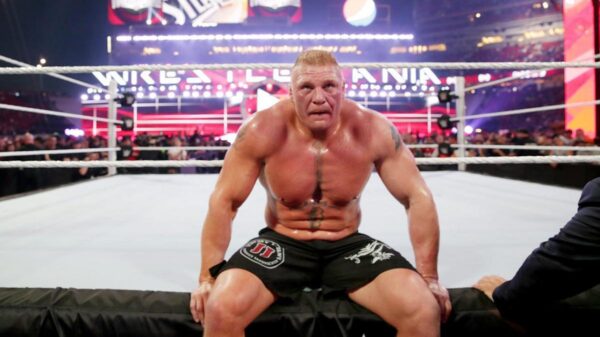 Brock Lesnar's experiences with quitting WWE
After announcing his leave from WWE, Lesnar wrote, "When the time came, I made my announcement and told everyone I was leaving the WWE. From that day forward I became the outcast. None of the guys wanted to be seen with me, because I was the bad apple. I was turning my back on the wrestling business—their business, their life. I was jumping off the train. They couldn't understand it, because that train was the only ride most of these guys would ever know."
"I didn't care, because I had made my choice. I still walked around like I owned the place, because there wasn't one guy in that company who could even hold my jockstrap. If I wanted to shoot on anyone in that locker room at any time, there wasn't a thing anyone could have done about it. But that's not what the business is about, so I tried to be good about it. Be a professional. Do my job. Earn my check. Be a provider for my family."
What made Brock Lesnar return to WWE?
While he was writing this book, Lesnar did not know about the explosive return he would make in 2012. Considering his disgust for the WWE lifestyle, Brock Lesnar cut himself a great deal. From 2012 to this day, Brock Lesnar is notorious for not being one of the regular guys. His whole motto has been to show up and conquer, ever since conquering The Undertaker's streak.
While he won the top prizes in both RAW and SmackDown over the years, he only wrestles in PPV matches. This goes to elevate the status of the match and his competitor whenever he is fighting someone. And we can expect it to be just like that in the upcoming SummerSlam match in Nashville against Roman Reigns.