"I Still Tortured the Big B*stard": Brock Lesnar Taught "Bullying" WWE Legend a Harsh Lesson
Without a question, Brock Lesnar possesses one of the most intimidating physiques in WWE history. Additionally, he isn't the type of person to make friends with everyone; in fact, there are many Superstars with whom it is known that he has a less than great relationship.
Although he does have a close relationship with many wrestlers, including Kurt Angle, The Undertaker, and a few more. Interestingly, he also gets along well with The Big Show. However, The Beast revealed in his autobiography that his friendship with the Big Show initially stalled and began poorly.
He described the encounter with the Big Show in his book. In his words, "
I had met Show when I was still in Louisville, and we didn't exactly hit it off right away. He pissed Vince or someone off because he was not in shape. And they sent him down to the developmental squad as a punishment. He was a giant of a man, seven feet tall and five-hundred-plus pounds, but Vince wanted his wrestlers to 'look good.'"
Additionally, he claimed that when he first met Show in Louisville; he witnessed Big Show treating others like maggots. Everyone in the camp was terrified due to his massive stature.
However, The Beast was unfazed by his stature, and as Show and Lesnar were rehearsing in the ring, he hit Big Show with a double leg and knocked him to the ground. He thus gained The Big Show's respect.
How Brock Lesnar taught a hard lesson to the Big Show for "Bullying"?
In his book, he further mentioned, "Another day, he was bullying everyone around, and I decided to bully him back. He got mad at me and told me I'll be back up in the main events, making millions, and you'll still be down here in Louisville setting up the ring."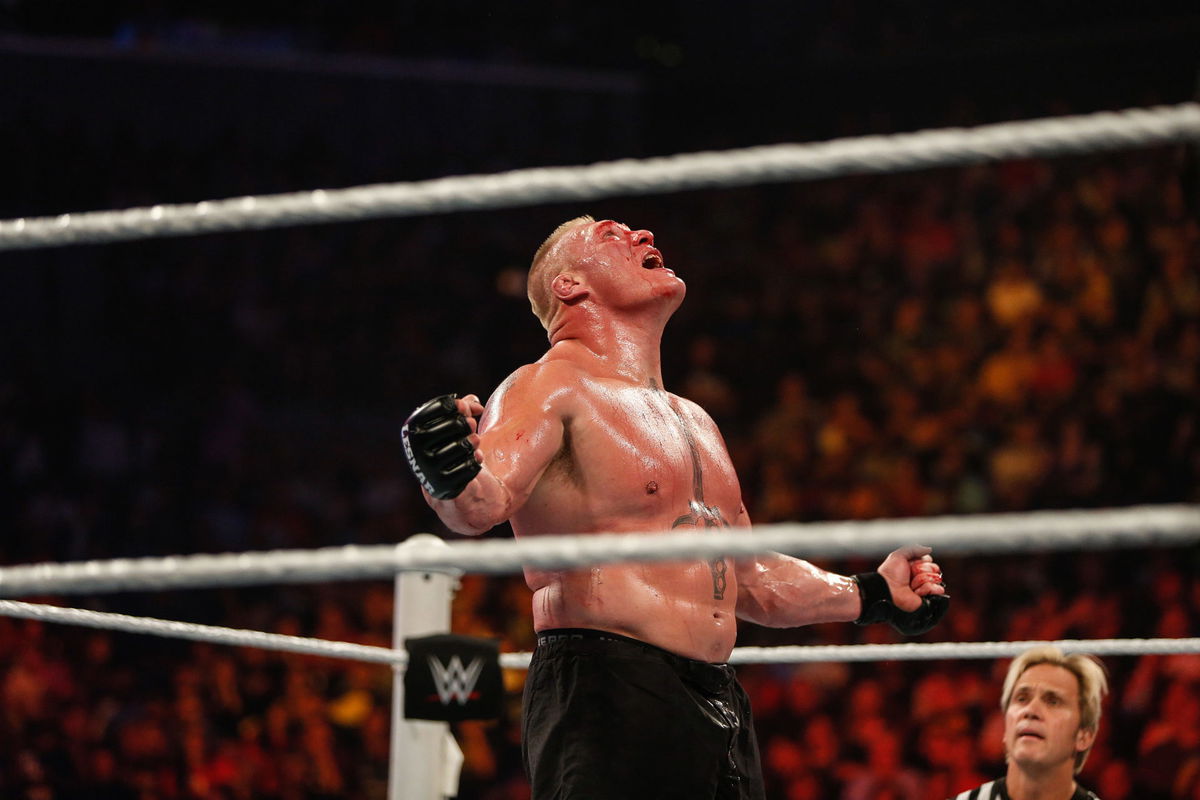 However, when they arrived in the WWE, Lesnar made the choice to remind Show of his little incident in Louisville. He waited until the appropriate moment before telling Show about the incident in Louisville.
Immediately after, he had to collaborate with him as he was about to remind him. Big Show then cut him off, saying, "I know where you are going with this, and f**k you!"
Moreover, he stated, "I still tortured the big b*stard… and while I was doing it, I taunted him a little more. 'Hey, didn't I take you down in front of everyone, too?' I laughed. But I like Show because he turned out to be one of the best people you could ever be around."
The Beast and The Big Show had a difficult beginning to their relationship. However, later on, he developed a close relationship with him and referred to him as one of the kindest guys.
Notably, The Big Show broke down in tears in the locker room when he announced that he would be leaving WWE. It undoubtedly indicates that he and The Big Show get along well.