"One of Those Media Wh*res": Brock Lesnar Has a Genuine Reason to Be AWOL When He Is Not in WWE
The WWE Universe and the UFC fanbase are aware of Brock Lesnar being an extremely private person in real life. 'The Beast' does not like it if anybody disturbs him while he is having 'me' time.
To have his private life less hectic, Lesnar and his family reside on a farm in Maryfield, Saskatchewan, Canada. We rarely see the former UFC Heavyweight Champion spending family time in front of the camera.
In his autobiography, Death Clutch, Brock Lesnar has shared the reason for living a private life. He has stated everyone has the right to privacy in life. Also, as his wife was a wrestling figure, she has some media attention, but Lesnar does not like when his kids are in the picture for the same.
He states, "But my children aren't performers. What makes them fair game? What gives anyone else the right to take pictures of my children? Why does anyone think it's okay to just walk up to me and act as if I owe them an answer to personal questions?"
Lesnar is not against socializing with people. In his book, The Beast has stated he is fine with taking pictures and signing autographs at an event of pay-per-view. The former WWE Champion has claimed about having a private life has cost him more money.
He says, "Over the years, I'm sure that being as private as I am has cost me a lot of money. I could be like one of those media wh**es that shows up anywhere there might be a camera just to keep my name out there, and to keep my face on the TV and in the papers so the endorsements will keep coming in. But that's not me, and I can live with that."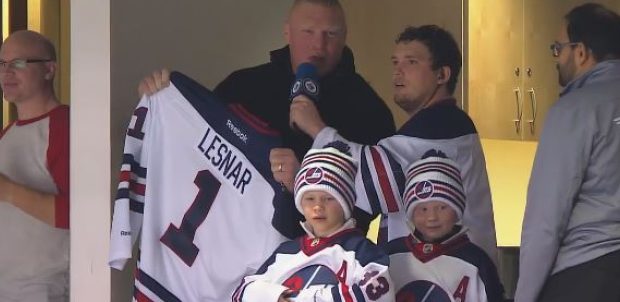 At the end of the day, Lesnar wants his family time to be far away from the world. He wants to keep his personal and professional life separate.
Brock Lesnar is jealous of WWE Hall of Famer Kane
The above sentence might have made you think why Brock Lesnar would be jealous of Kane? This is because back before 2003, Kane used to wear a mask. He was able to live to identities as Kane in WWE and Glenn Jacobs in his personal life.
Lesnar, in his autobiography, says, "That's why, in some ways, the WWE character I envied the most was Kane. He had the greatest gig ever, because he was a big star who wore a mask on TV. When he went home, he'd get to take off the mask and live a normal life. Nobody knew what he looked like, and no one ever bothered him when he went about his personal life."
According to Lesnar, Kane had a normal personal life until he took the mask off. This is the reason he was able to stay in WWE for a long time as per Lesnar. 'The Beast' stated he would have stayed for a long time in WWE if he'd worn a mask.