"S*** Your Pants": American Hero Prefers Dwayne Johnson Over The Undertaker for a 'Painful Reason'
WWE, in the early 2000s, was crazy. All the big stars of that generation were masters in one thing or another. While Dwayne Johnson was perfect as a character, Kurt Angle was busting out matches deserving of the 5-star ratings.
The matches were fun and creative, and the storylines made much sense for the fandom. And between all this chaos we got Kurt Angle vs The Rock vs The Undertaker for the WWE Undisputed Championship.
In the much exhilarating match, Angle had the clever idea of stealing each other's finishers and having three consecutive near-falls. So, in the match Dwayne Johnson performed the Undertaker's chokeslam, Angle performed the Rock Bottom, and The Undertaker performed the Angle Slam. The match was an instant classic with Dwayne Johnson picking up the victory after pinning Angle.
Kurt Angle talks about Vengeance 2002 main event with The Undertaker and Dwayne Johnson
On the Kurt Angle show podcast, Angle discussed working with these two legends. Furthermore, he talked about which finisher hurt him more; the chokeslam or the Rock Bottom.
Angle said, "The chokeslam (hurt more). You're out of control when you go up. Rock Bottom, he has you close inside his body, and he goes down and bumps with you. When someone bumps with you, the bump isn't as abrasive. When you do the chokeslam, he doesn't come down with you. You go down by yourself, and you're taking the whole bump by yourself. It's really difficult. It'll make you sh** your pants [laughs]."
Moreover, the match was the last time that The Rock would win a WWE Championship, before becoming a full-time Hollywood superstar. And with Steve Austin leaving the company, WWE needed a hero to save them through the aftermath of the Attitude Era. And that ray of shining light would come in the form of Brock Lesnar, who teared up every opponent who stood in his way.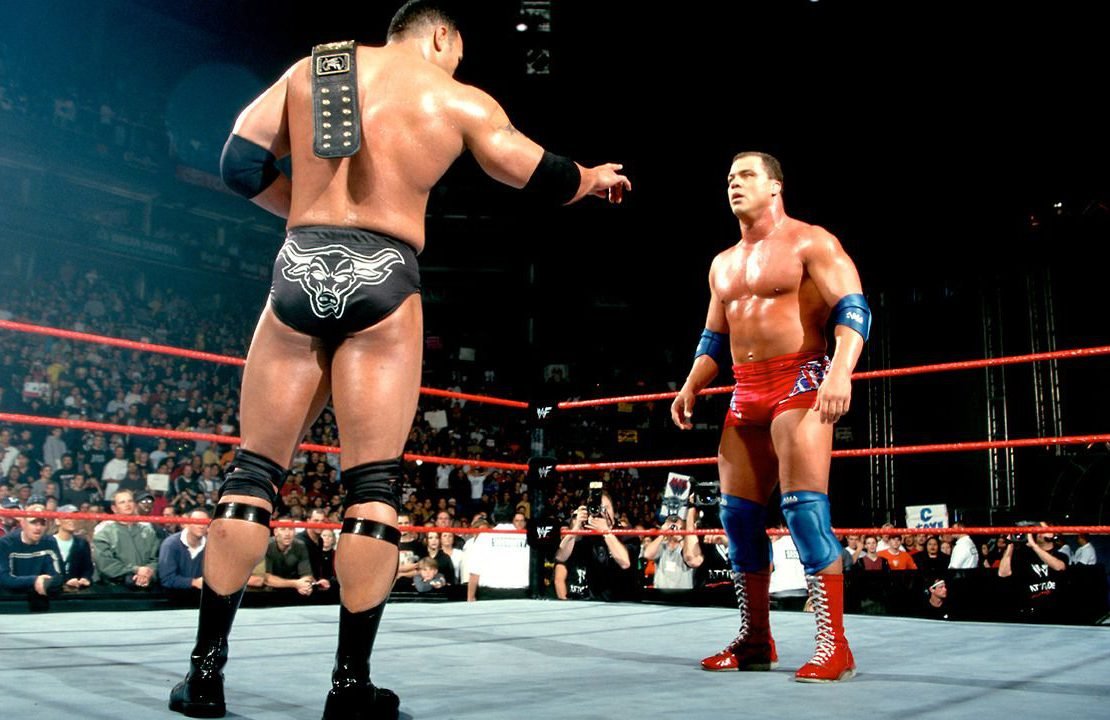 Meanwhile, Kurt Angle was in the prime of his career. Delivering excellent matches with everyone on the roster and becoming the real workhorse for Vince McMahon. And need to say nothing more about The Undertaker. The legend was in his American Badass gimmick and the fans fell in love with him all over again. However, this triple threat match was everything these men wanted and the fans deserved.
Tell us what you think about the excellent triple threat main event between three industry standards in the comments below.