"He Was on His Deathbed": The Undertaker Expresses Concern as WWE Legend Puts Life on the Line
The Undertaker has always cared about his fellow pro wrestlers. He has been a leader in the locker room during his pro wrestling days. 'The Phenom' has always looked after everyone. And recently, he once again showed his caring nature for his former rival, Ric Flair.
Ric Flair has grabbed the headlines recently for his retirement match. "The Nature Boy" is going to compete in a pro wrestling match once again at 73 years of age. Flair is clearly excited about his last match and so are his fans. But there are some individuals like The Undertaker who are worried about Flair's health.
Recently, in an interview with Sports Illustrated, The Undertaker expressed his concerns over Ric Flair's health as "The Nature Boy" prepares for his last match.
Taker said, "I love this business and I've dedicated the past 30-plus years of my life to it, but knowing how my body feels after my career, I don't know how he's doing it. Flair is on a whole other level. It wasn't long ago he was on his deathbed. This world is better with Flair in it. Personally, I don't want to see it. I'm happy he's doing well. I wish the best for him, and I hope he gets everything out of it that he wants."
Not only 'The Phenom', but other pro wrestling legends will also have their eyes fixed on Ric Flair's last match. "The Nature Boy" is going to team up with Andrade El Idolo to take on Jay Lethal and Jeff Jarrett at Starrcast V, taking place in Nashville.
What next for The Undertaker following his WWE Hall of Fame induction?
The Undertaker had retired from in-ring competition back in 2020. And recently, just ahead of WrestleMania 38, Taker got inducted into the WWE Hall of Fame. Now, fans have been wondering what's next for The Undertaker in his professional life.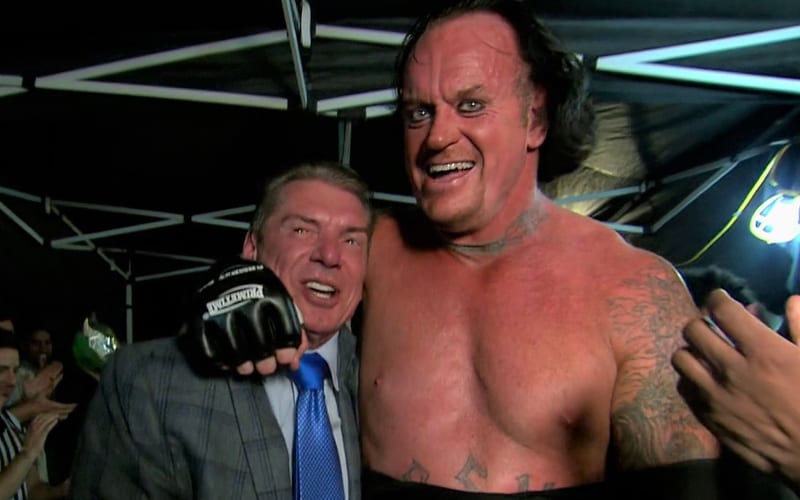 Not only will Taker get to spend more time with his family following his retirement, he will also have his own podcast shortly. Yes, you heard it right.
The Undertaker will soon have his own podcast. The fans can get to hear more unheard and interesting stories from 'The Phenom' on this podcast. Are you all excited about The Undertaker's upcoming podcast? Let us know in the comments.