The Undertaker Apologized to Businessman Worth $500M for His Controversial Actions
It is no secret that The Undertaker is a diehard UFC fan who avidly follows the sport. Once, The Deadman was present at UFC 121 in 2010 as a spectator for Brock Lesnar vs Cain Velasquez fight for the UFC Heavyweight Championship.
The appearance is memorable as Taker and Lesnar had a short stare-down while Ariel Helwani was interviewing The Phenom. However, Dana White was shocked after watching these scenes at UFC 121.
Dana White later cleared the confusion on the matter while his appearance with George Stroumboulopoulos on CBC Television.
The UFC President said, "No, I didn't know. That's funny you're asking me this because The Undertaker called me a couple of days ago and apologize for the whole thing. This is a story, him and Brock have some beef and Brock walked by him and he said something to him and it blew off into that whole thing that happened."
Furthermore, White added by talking about the great and respectful relationship he has with Vince McMahon. He also shared having an amazing relationship with WWE superstars who are fans of the sport.
Adding to the above statement, White claimed that WWE and UFC are distinct entities. He praised Brock Lesnar for a great WWE career. Moreover, he also sang praises of The Beast for his accomplishments in the UFC with minimal experience in the sport.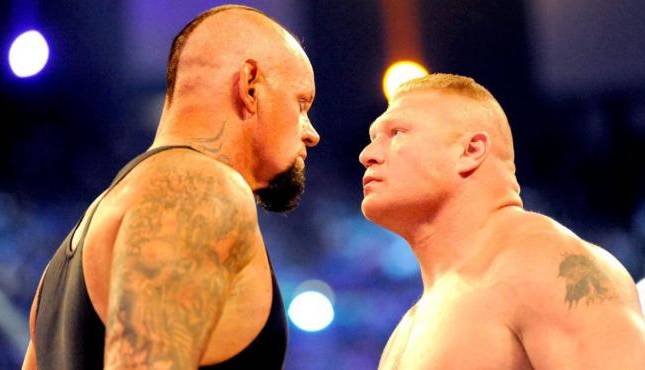 Two years after this incident, The Beast returned to WWE in 2012. Subsequently, in 2014, they locked hands at WrestleMania 30 and became The Conqueror by breaking the legendary streak.
Vince McMahon sent The Undertaker at the show. However, Taker thought White and Mr. McMahon talked to each other over him appearing at UFC 121. Apparently, there was no conversation between them, which led to White getting confused why Taker confronted Lesnar.
The Undertaker would have switched his career path to MMA
While doing the infamous interview with Ariel Helwani at UFC 121, The Undertaker shocked everyone by being in public. In 2010, Taker was at his peak and used to maintain his kayfabe everywhere he went.
Helwani asked Taker if he would have stepped in the Octagon 20 years ago if MMA was popular. The Deadman (saying yes by nodding his head) said, "Safe bet. (A) real safe bet. It's a little in the game for me to start now, but 20 years ago I'll be all over."
Helwani also thanked Taker for introducing MMA to pro-wrestling by using gloves and using triangle choke. In 2020, Helwani once again interviewed Taker, in which he mentioned that the UFC 121 interview was the highlight of his career until today.