"Such a Germaphobe": Hollywood Actress Once Trolled Dwayne Johnson for His Habit Loved by John Cena
Dwayne Johnson is the highest-paid Hollywood actor, and rightfully so, he deserves the title. He broke through the stereotypes of Hollywood and went on to become the top star there. Johnson has often claimed himself to be 'The Hardest Worker in the room', and his results can verify that claim.
Following a similar path, WWE Legend John Cena also transitioned his pro wrestling career into that of a Hollywood Star. Cena is one of the best WWE Superstars ever, and he took his star power to Hollywood and started using that. He has starred in several highly successful movies and shows, with his most recent one being 'Peacemaker', which received extremely positive reviews.\
Prior to becoming a pro wrestler, Cena used to be a competitive bodybuilder. In his early 20s, Cena moved to Venice, California, also known as the 'Mecca of Bodybuilding' to make a name for himself in that industry. However, things often do not go as planned, and soon Cena had to switch careers. Switching careers turned out to be extremely beneficial, and he soon rose to the top as a mega-star.
Similarly, Dwayne Johnson also used to be a football player, then a pro wrestler, and then became an actor. However, certain things between these two stalwarts are common. Such as their fondness for fitness, and their habit of keeping the gyms clean. Cena once revealed how he likes the gym clean and weights put away.
On the same note, even Johnson, during an interview alongside Emily Blunt had discussed a similar thing. He revealed that he once invited Emily Blunt to his gym, but in the hindsight, he did not want to, because she makes the gym messy, and the weights lying around.
However, Blunt said, "It's so tidy, like he's such a germophobe. He's incredibly tidy." Johnson replied, "But it's a gym. By the way, there's sweat, there's iron laying around, but I do like to keep it clean, that's important. This one comes over, she doesn't wipe it down. There's sweat everywhere, there's baby weight." 
Both Johnson and Cena are extremely fit and are currently working with DCEU. While Johnson is Black Adam, Cena plays Peacemaker.
John Cena and Arnold Schwarzenegger hate a bodybuilding habit, which Dwayne Johnson loves
While Cena and Johnson have several things in common, there is one thing which is absolutely poles apart. While both of them love to work out and keep their gyms clean, there is a thing that Cena and Arnold Schwarzenegger hate during their workouts, but Johnson does not.
John Cena claimed that he does not like listening to music during his training. And, similarly, Schwarzenegger also claimed to not love listening to music while training. However, Johnson has stated several times how much he loves listening to music while working out.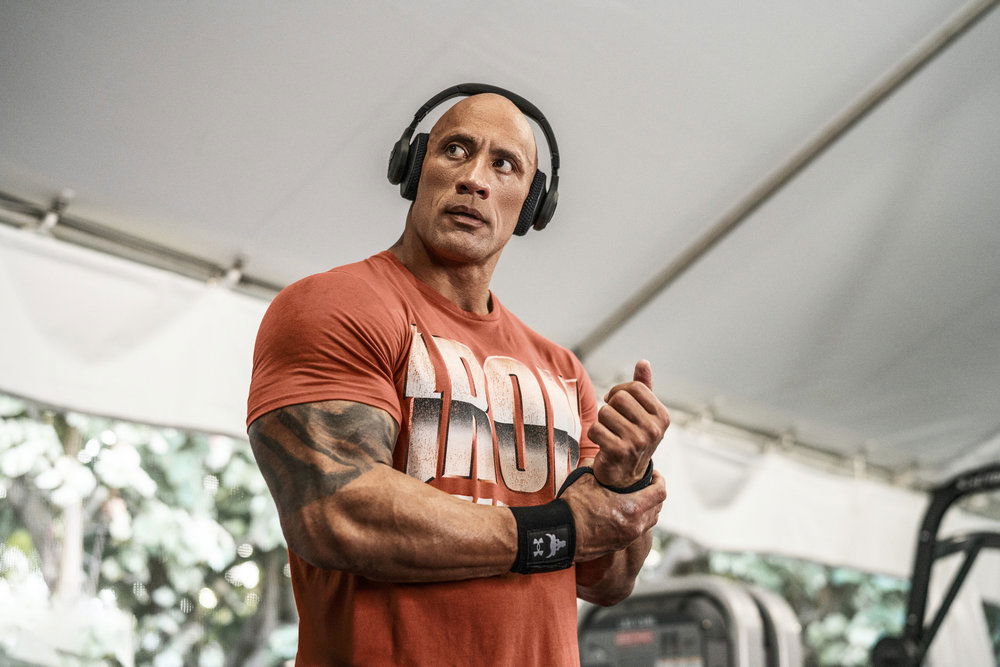 The Brahma Bull has a dedicated playlist for his training time. It comprises around 9-10 songs. He even took to social media to reveal the songs.
https://web.facebook.com/DwayneJohnson/photos/a.448580834383/10153790788309384/?type=3